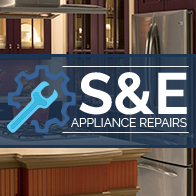 We'd like to thank you for stopping by S&E Appliance Repairs. We're dedicated to bringing you the absolute best in home appliance repair to the people of Washington D.C., Bethesda, Alexandria, and the surrounding area.
S&E Appliance Repairs prides itself on our continued dedication to improving year after year. We constantly work to improve our service, and are always training in order to repair the latest generation of home appliances. What can we help you with?
Refrigerator Repair
Of all the kitchen appliances that can stop working, the refrigerator is the worst, because there's a good chance you're going to lose some food on top of what it will cost to repair it. When you contact us we'll get there as soon as we can to prevent as much loss as possible.
Oven and Stove Repair
While microwave cooking is noble from an energy consumption point, there are many foods for which that just doesn't work. You need your stove and your oven to work, and work properly so that you can cook a good homemade meal.
Washer and Dryer Repair
There's only so long you can go without a working washer and dryer. Sure, you can go to the laundromat, but that takes time, money, and it's not always the most hygienic. When either your washer or dryer gives out, contact us and we'll get them up and running again.
Garbage Disposal Repair
When your garbage disposal goes out, it could lead to even bigger problems with your drain and sewer system. Don't just let it sit, because you could be dealing with a stinky kitchen before long. Call us for garbage disposal repair when it goes out.
Dishwasher Repair
Sure, you can hand wash your dishes for a while, but after you realize just how much work your dishwasher has been doing for you over the years you're sure to give a call before too long.
S&E Appliance Repairs is ready to take care of all of your appliance repair service. Contact us no matter what your appliance problem.