Who doesn't want their household appliances to last forever? While keeping your appliances operational for more than 10-25 years isn't as easy as it sounds, there are many times when our home appliances seem to be out of order and we decide to purchase new ones, when they can be easily repaired by a reliable appliance repair company.
Statistics indicate that the global dryer market size in 2020 was approximately $14.8 billion. It's expected to amount to $25.1 billion by 2030, growing at a CAGR of 4% between 2021 and 2030. Laundry dryers are extensively used worldwide for cloth-drying purposes. Technological advances in the industry are the key drivers of the massive growth of the market and the increased demand for dryers.
Dryer manufacturers are consistently improving their products to make them more energy efficient and minimize their carbon footprint. The expected market size of the electric dryer industry by 2023 is $10.8 billion. The most common types of electric dryers include condenser dryers, mechanical steam compression dryers, heat pump dryers, solar clothes dryers, and spin dryers.
Most Common Dryer Issues

Damaged Drive Belt
If your dryer machine doesn't spin even when you turn it on, its drive belt has probably been damaged. If this happens, call an experienced dryer repair shop in your area.
An appliance repair professional will closely inspect the dryer to troubleshoot the root cause. Drive belts wear over time and eventually come to their breaking point. Dryer belts are quite affordable and can easily be replaced. The average cost of dryer belts is $3 to $10 (in addition to the installation charges).
Air Duct and Vent
Airflow plays a key role in affecting the performance of a dryer. When the air vent becomes clogged, the dryer's operational efficiency reduces. To clean the dryer, you simply need to unplug it and remove its connection with the vent.
From the machine's outer side, remove the vent screen and clean up the vent to remove clogs using a vacuum. Once you're done with the cleaning, connect it to the drier again.
Clean the Filter
Lint is the biggest reason why some dryers don't perform well. It's also one of the biggest reasons for dryer fires in the US. Therefore, it's important to clean the lint screen every time you use the appliance.
While you shouldn't use water for regular cleaning, here's how to deep clean the lint screen after a six-month interval.
Roll the lint roller all over the screen
Take out the lint screen and wet it with hot water from both sides
Remove remaining buildup using a nylon brush. You can use a liquid detergent to speed up the cleaning
Rinse the screen with hot water and dry before the next use
Pay Attention to the Dryer Settings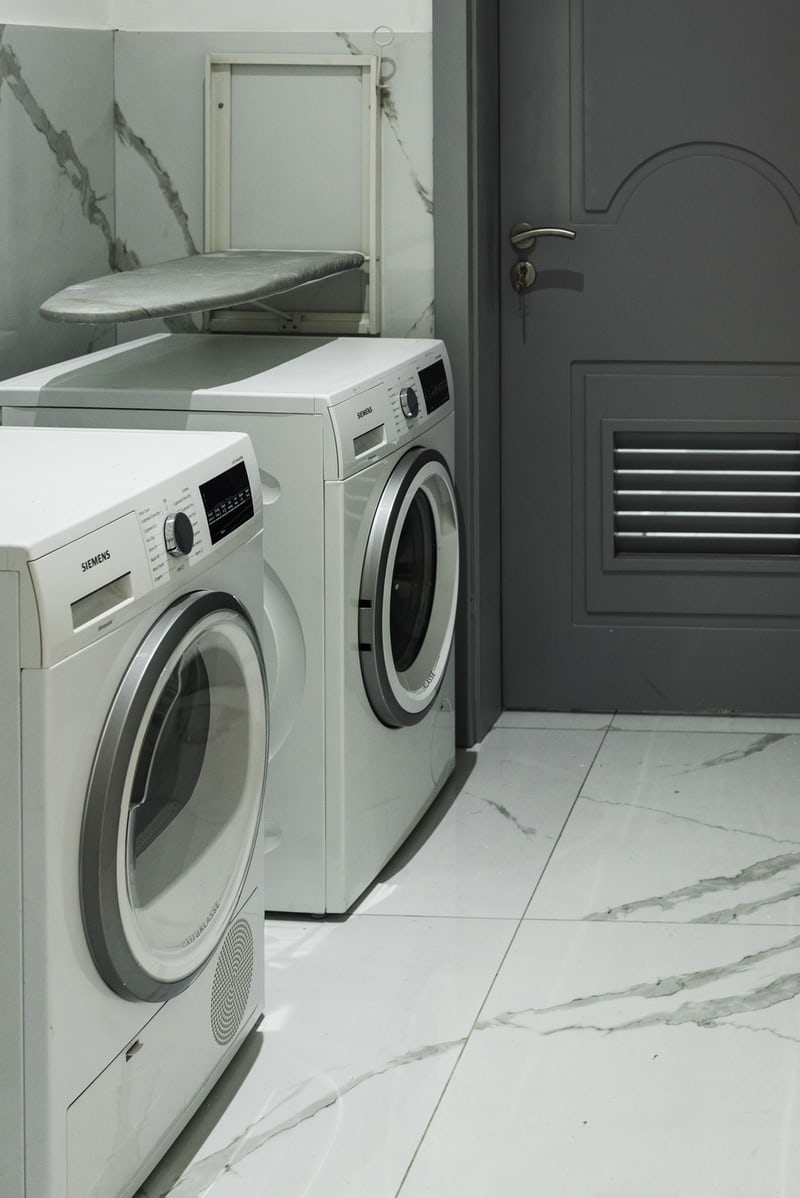 We often start thinking that an appliance has reached its end-of-service when there's only a problem with its settings. If your dryers' settings are disturbed, it may take longer than usual to dry your clothes.
For instance, if you choose the gentle cycle or the air-dry option for a huge pile of clothes that contains towels, jeans, and bedsheets, you're more likely to get damp laundry even after the cycle ends because the settings don't match with the type of clothes you filled it up with.
Carefully reading the user manual can help you choose the right options. Also, pay attention to the laundry symbols on your clothes. These symbols will help you pick the best dryer settings according to your clothes.
Improper Vent Installation
If you've deep cleaned the vent, but the dryer still fails to dry your clothes properly, make sure the vent system is properly installed. Make sure you're using the right type of vents for the vent system you're using.
Dryer manufacturers and dryer repair professionals recommend using rigid metal vents for better dryer performance and to avoid kinking and crushing. If the vent is crushed or kinked, the moist air inside the dryer will take longer to escape, and eventually, the drying time of the dryer will also surge. Also, make sure that the vent is installed at a distance of 4 inches (at least) from the wall for better dryer performance.
Clean the Sensor
Courtesy of technological advancements, today's dryers contain sensor bars to detect moisture levels. Precise moisture detection is important for quick drying. If you want to reduce the drying time of your dryer machine, make sure you frequently clean the sensors. You can also check manufacturers' instructions about the topic on the user manual.
Dryer Location
To improve your dryer's operational efficiency, make sure it's located in a well-ventilated, cool, and dry place. If you keep the dryer in a small closet or a congested space, it won't perform up to the expected levels.
If, however, you've got no other option, make sure there are openings at the bottom and the top of the doors for maximum ventilation. A dryer's frontier needs at least a 3-inch space for proper ventilation.
An experienced dryer repair expert can help you identify if your space is the right fit for your specific dryer.
Let S&E Appliance Repairs Help!
S&E appliance repair is a renowned appliance repair company that offers same-day appliance repair services in Washington DC and North Virginia. They repair all kinds of electrical appliances such as refrigerators to garbage disposals, dishwashers, freezers, ovens, washers, and driers. Contact them today for more information.
About the Author
The author of this post is an electrical engineer and writes educational content for the S&E Appliance Repairs website to help people learn about electrical appliance maintenance and repair.